Find the Perfect New Honda SUV at Safford Brown Honda Arlington in Northern Virginia Today!
Whether it's something that's small, relatively efficient and adventurous, or if you need a rig to handle all your family travels around northern Virginia and Washington D.C., you'll find a great new Honda SUV right here in Arlington. The new 2019 Honda HR-V offers a smart commuter setup with a raised ground clearance for off-road adventures, while the 2019 Honda CR-V is our flagship SUV, providing versatile driving all around. These SUVs and crossovers are full of useful tech features, offer some of the best cabins in the auto industry and are capable and efficient when needed, helping you safely and capably drive yourself or your loved ones around Bethesda, MD or Fairfax or Falls Church, VA. Take a look at our four new SUVs, then visit our Arlington, VA Honda dealership today.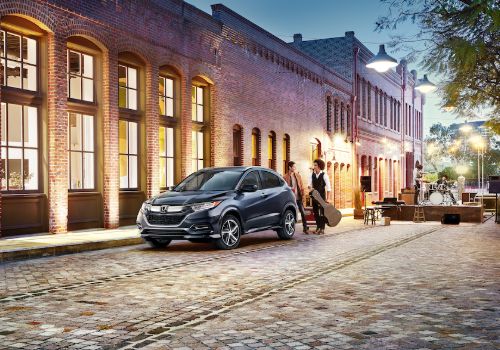 The smallest of our crossover, the new 2019 Honda HR-V is a great choice if your family hasn't grown too big for a relatively small cabin. With the new 2019 Honda HR-V, you have enough space to fit adults in the back, a lot of smart cargo options and impressive fuel economy. Read on below to see what makes the new 2019 Honda HR-V a great option here in the Alexandria area, then visit us today in Arlington for a test drive.
As our most efficient crossover, the 2019 Honda HR-V is a great choice for the daily commuter who wants added cargo and passenger space inside, along with versatile capabilities if you like to head out of the metro area for camping, hiking or other outdoorsy activities.


Though it's relatively limited in total cabin space compared to the other SUVs in our lineup, the new 2019 Honda HR-V organizes its interior smartly, with plenty of smart cargo management systems and uses the second-row Magic Seat to give you a variety of setups inside.


An overlooked quality in any kind of car is its visibility from the driver's seat. Taking into account the front pillars, how windows are designed and other qualities, you'll really come to appreciate how the new 2019 Honda HR-V offers a great view all around, helping to keep you safe and attentive with your peripheral vision while you travel along the Beltway near Falls Church, Fairfax and Alexandria.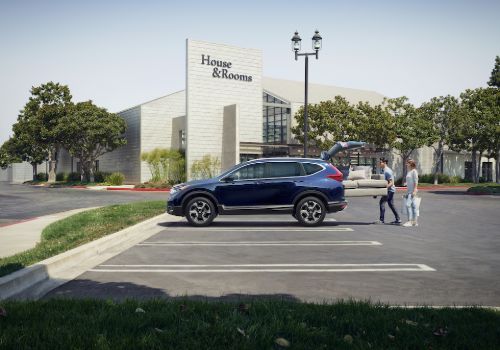 What more needs to be said about the new 2019 Honda CR-V that you'll find here in Arlington? It's consistently ranked as one of the top small SUVs, earning points for efficient driving, spacious cargo and passenger space and a comfortable driving and riding experience. For driving around D.C. and the suburbs here in northern Virginia, there's simply no better option than the new 2019 Honda CR-V if you appreciate a blend of easy driving and useful utility.
While considered a "small" SUV within the market, the new 2019 Honda CR-V features a cabin that's roomy, spacious and comfortable for five and for plenty of cargo. The easy folding-down rear seats expand your cargo capabilities, while small storage compartments and features are found throughout the cabin.


There are two engine options for the new 2019 Honda CR-V, but it's the available turbocharged 1.5-liter four-cylinder you'll want. Not only is it slightly more powerful and peppy than the base four-cylinder, but it also provides a boost in fuel economy, which is important when traversing the slow-moving traffic around Arlington and Alexandria.


Prioritizing safety in any vehicle you'll drive your kids and loved ones around in is smart shopping, and with the new 2019 Honda CR-V you'll have the confidence from its stellar crash test ratings, as well as the driver aids offered in the EX trim and higher, including features like blind-spot monitoring, rear cross-traffic alert, lane keeping assist and more.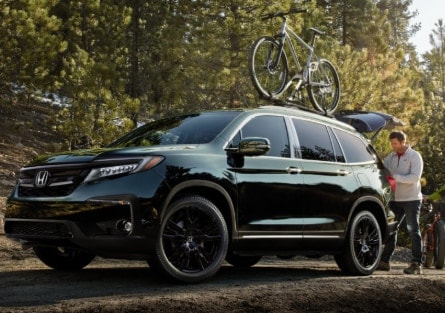 If your travels around northern Virginia or for longer family road trips require more cabin space and seating than what your current SUV provides, the new 2020 Honda Pilot is the right choice for you. Capable with strong efficiency levels for a three-row SUV, and offering plenty of useful options, the new 2020 Honda Pilot has been improved over previous versions with a smoother automatic transmission. See what's exciting about this three-row SUV, then visit our Arlington, VA Honda dealer today for a test drive.
Cabin setups are always key qualities in SUVs, and the 2020 Honda Pilot features an interior that's versatile and spacious, as well as comfortable and safe for up to eight passengers. With easily adjustable second- and third-row seats and plenty of intelligent cargo management systems, you'll have no trouble getting around with your family and all your stuff in this SUV.


Though it's not anybody's idea of the perfect commuter car, the new 2020 Honda Pilot offers some of the stronger fuel economy levels among three-row SUVs. Still, its 3.5-liter V-6 is perfectly capable to the tune of 280 horsepower and 262 pound-feet of torque, with AWD a smart option to add.


Choosing the new 2020 Honda Pilot means you can have more standard features than the other SUVs in this lineup. You start off with a full touchscreen infotainment setup with Bluetooth and smartphone integration, and standard driver aids like lane keeping assist, forward collision warning, automatic emergency braking and adaptive cruise control.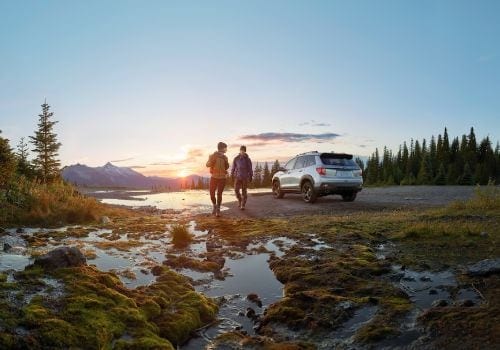 A unique SUV lineup, the new 2019 Honda Passport offers similar styling and features like the 2019 Honda Pilot, just with two rows of seating. That means you get more cargo space, as well as highly comfortable passenger seating for five. Additionally, this SUV is a great option for off-roading if your travels regularly take you off the beaten path.
Though it doesn't feature a third row of seating like its larger sibling, the 2019 Honda Passport provides ample backseat space for both passengers and for more cargo if you fold down the rear seatback.


With a raised ground clearance and optional AWD system, the 2019 Honda Passport is probably your best bet if you regularly drive along trails and on unpaved surfaces. You won't find many of those here in the D.C. area, but there are plenty of great mountains, parks and different terrains all within driving range.


With a strong 3.5-liter V-6, you'll appreciate being able to tow up to 5,000 pounds in your new 2019 Honda Passport, and its sense of acceleration is swift and peppy.